Corona crisis increases collection volumes at Rinki eco take-back points
Many Finns have been spending a lot of time at home this spring. This has been reflected in the increasing amount of packaging waste from households. Rinki empties the containers at Rinki take-back points more frequently in busy times to ensure that they stay tidy.
Many people are staying at home, especially in the Helsinki metropolitan area, and there has been a lot of packaging waste. Feedback from users is important to Rinki, so that Rinki knows exactly how the points are performing. Rinki has met the demand by emptying the containers at many Rinki eco take-back points even more often than usual.
– The collection volumes at Rinki eco take-back points increased dramatically in March and April compared to the same period last year. There has been about 20 percent more cardboard, glass and plastic packaging and metal than in the corresponding period last year. A lot of cardboard, in particular, is being taken to recycling. This is the result of the growth in online shopping and the increased number of take-away meals people are ordering, says Rinki's Operative Director Pertti Tammivuori.
There are more than 500 press machines at Rinki eco take-back points. Because it can take up to over 4,000 kilogrammes of packaging waste, a press machine can hold 40 times more packaging waste than a conventional collection container, which can only hold about 100 kilogrammes. Press machines also help in the planning of packaging collection logistics, as they send a notification when they are full or when there is a malfunction.
Packaging only to Rinki eco take-back points
Rinki eco take-back points, located across Finland, only accept household packaging. Almost all of them also have take-back points for paper and clothes. It is easy to sort packaging waste because the same instructions apply everywhere in Finland. These sorting instructions are available at rinkiin.fi/for-households/sorting-instructions/.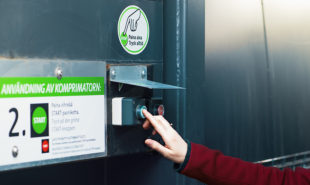 Packaging waste should be taken to Rinki eco take-back points or to the residential property's collection container. It is important to flatten cardboard packaging so that it does not take up too much space in the container. If the collection containers are full, waste must not be left on the ground next to the containers and must instead be stored until there is room in the containers. Please inform Rinki's customer service team if you notice that a take-back point is full or messy.
Rinki's customer service team is happy to receive feedback on Rinki eco take-back points and to advise consumers on sorting issues on 0800 133 888 (Freephone, Mon-Fri: 7 am – 9 pm; Sat: 9 am – 6 pm) or by email at asiakaspalvelu@rinkiin.fi. You can also leave feedback on eco take-back points by filling in the online form at rinkiin.fi/rinki-ecopointfeedback.
Furniture and electrical equipment go to the municipal waste station
Households also produce a lot of waste from house renovations and garden waste. This type of waste should not, however, be taken to Rinki eco take-back points. In addition to these, there are collection points for electrical appliances, light bulbs, batteries and tyres. The collection points for all waste materials across Finland can be looked up on the map at www.kierratys.info.
Furniture and electrical equipment go to the municipal waste station. Hazardous waste, electrical equipment and many other materials can be taken to waste stations free of charge.
Electrical appliances can also be taken to shops that sell them. Many shops take batteries and light bulbs, and tyres can be taken to tyre shops.