True stories about better packaging
Lidl organised a Packaging stories (Pakkaustarinoita) competition in spring 2021 to reduce the amount of excess plastic in packaging, to promote recyclability and to create completely new types of packaging.
The main reason for Lidl to organise the packaging competition was to accelerate progress towards its packaging goals. Lidl plans to reduce the amount of plastic in its packaging by 20 percent by the end of 2025. The company also wants to use about 20 percent of recycled material in its packaging and make all packaging as recyclable as possible by the same year. Lidl will stop using black plastic by the end of 2021.
– We have already had clear targets for reducing the amount of plastic and recyclability since 2018. We wanted to use the Packaging stories competition to find new, innovative packaging solutions while encouraging a debate about this important topic, says Riikka Pöllänen, Head of branding and packaging at Lidl.
Consumers play a crucial role
In addition to getting rid of black plastic, Lidl has also reduced the amount of plastic in its packaging and added a deposit to its plastic juice bottles.
– Plastic is one of the big challenges of our time. We want to identify unnecessary plastic, reduce its use and replace it. There's still a lot to do, though, says Pöllänen.
According to Pöllänen, Lidl will achieve its packaging recycling goal through cooperation. Contract manufacturers and consumers play a crucial role in ensuring that packaging ends up being recycled.
– We look at each package on its own, keeping in mind that the primary function of the package is to protect the product. We aim to make recycling easy for consumers by means such as providing clear sorting instructions and raising awareness.
Tough competition
Almost 80 wonderful entries by representatives of companies, associations and educational institutions were submitted to the competition. The competition was tough, and a panel selected five winners.
– We went through all entries very carefully, and we have continued discussions with several competitors even after the competition. We hope to find many opportunities for cooperation from among the ideas that were submitted to the competition; solutions that will end up on our shelves, says Pöllänen.
Other companies in the industry have also organised various packaging competitions.
– The competition was a great way for us to deal with this issue since 75 percent of our product range is our own brands, and we are also responsible for packaging together with our suppliers, Pöllänen points out.
Lidl also hopes that its example will inspire all companies in the food industry to explore new packaging solutions.
– We play an important role as a supermarket, and we want to actively promote circular economy solutions and the sensible use of materials. We carry out this work within the Group across Europe, which means that we also have the potential to make a significant impact. By adding recycling instructions onto our packaging we are also making sorting at home an easier task, says Pöllänen.
Twenty different types of material circulate in distribution centres
The Responsible packaging logo is used on Lidl's own packaging to indicate that the packaging in question has been developed to be easier to recycle, to contain less plastic or to have been made of recycled material. Lidl's recycling rate is more than 93 percent.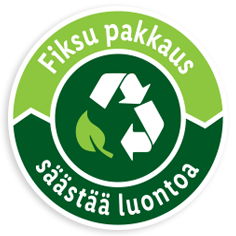 – We recycle a total of 14 different types of waste in our supermarkets and more than 20 in our distribution centres. The supermarkets sort and pack their waste into units that are suitable for lorries every day, and the lorries take the waste back to the distribution centres, Pöllänen explains.
Lidl has a closed cycle system for cardboard: fibre waste from supermarkets is used as raw material for new cardboard boxes.
Competition winners:
• Kamupak with its digital deposit system
• Finnvacum with its recyclable mono-plastic packaging
• Mondelez with its Philadelphia cream cheese packaging
• Hätälä with its recyclable packaging for fish

• VihreäKeiju with its Woodly wood-plastic composite
Read more about the winners: (in Finnish)