Plastic packaging of the future: Berner invests in recycled plastic
A Finnish family-owned business, Berner, uses recycled plastic in its cleaning and car care product packaging. "Plastic packaging of the future is recyclable and made of mono-material," says Pirjo Turunen, Packaging Specialist at Berner.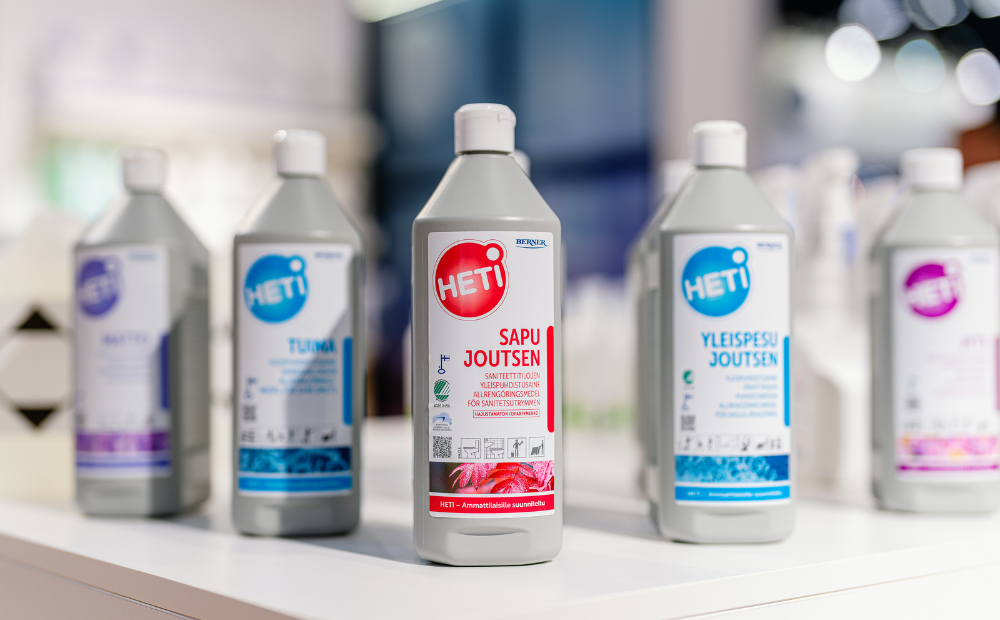 Berner focuses on consumer products and healthcare, industry and agriculture, and it aims to use only recyclable packaging for its products by 2025. The company is getting close to its target.
"More than 90% of the packaging used for Berner's products is already recyclable, so we are doing really well," says packaging specialist Pirjo Turunen. Most of the packaging that Berner uses for its products is made from plastic, either PET or HDPE.
In Finland, Berner has three factories in Heinävesi and a natural cosmetics factory as well as a product development laboratory in Helsinki. Turunen is responsible for packaging procurement at the Heinävesi factories for technical products such as car care, hospital, cleaning and garden products.
The reasons for using recycled plastic are easy to summarise: "Promoting circular economy is part of sustainability, and recycling plastics is a big part of this. Switching to recycled plastic is ecological."
Recycled plastic in both B2B and consumer packaging
Berner has recently collaborated with Fortum on the packaging for the HETI Pro cleaning product range developed for professional use. Customers had expressed a wish for recycled plastic packaging to be used for the range, which was as an incentive to start packaging development.
Turunen says that recycled plastic has not been used for very long, so a lot of time was spent on the development efforts. The plastic for cleaning agent packaging had to be chosen carefully as it had to be ensured that alkaline cleaning agents could not permeate the containers over time. Fortum was eventually able to create a good plastic granule that could be used in cleaning product packaging. The Fortum Circo® recycled plastic bottle is made from household packaging waste.
The recycled plastic bottle is as durable as a bottle made of virgin plastic, and there are no differences in their usability. HETI Pro containers are grey as it is impossible to produce pure white packaging from recycled plastic. "This is actually a good thing, because consumers know that the bottle is made from recycled materials and it's supposed to look like this," Turunen says.
Berner has received positive feedback on the appearance of HETI Pro packaging. Using recycled plastic in packaging even gives companies a competitive advantage. "Consumers are well-informed and recycled packaging is in demand," says Turunen.
The packaging used in the HETI Koti range, aimed at households, is also made of recycled plastic. These containers are made entirely of PET plastic that has been recycled in Finland. Other Berner ranges that use recycled plastic packaging include the car care series Korrek, which also uses fully recyclable PET plastic containers manufactured in Finland. Some containers in the Korrek range are black. Black plastic packaging is no longer dyed with carbon black pigments, which used to make it difficult to recycle black plastic at a plastic refinery. Now even the black car care packaging can be recycled.
Recycled plastic is suitable for many uses
Containers made from different types of plastic are suitable for a variety of uses. The characteristics of the product determine the type of plastic that can be used in its packaging: some solvents, for example, need to be packaged in PET packaging as strong substances could evaporate through HDPE packaging.
It is important to know the origin of recycled plastic before it can be used in packaging. The plastic in cosmetics and food packaging, for example, must be food-grade plastic, i.e. sufficiently clean: "We strictly follow the legislation. We can't use any old plastic in a face cream jar – the packaging must be food-grade plastic. All packaging made of recycled plastic that we test goes through rigorous testing."
When it comes to using recycled plastic, the challenge is the characteristic odour caused by the recycling process. "More impurities end up in HDPE granules than PET granules in the recycling process," Turunen explains. The smell is due to the fact that some dirty plastic and even other types of waste end up in the plastic refinery, and the residual smell cannot be completely removed even by washing. However, washing processes are constantly being developed.
Plastic packaging of the future is recyclable
How does Turunen see the plastic packaging of the future?
"The plastic packaging of the future is either made of recycled material or easily recyclable and mono-material. Packaging will be lighter and less plastic will be used. I can't see plastic disappearing from use any time soon," says Turunen. What she does believe is that plastic will be used in an eco-friendlier manner so that it does not end up in waterways, for example.
Turunen says that increasing amounts of mono-materials are used in packaging. Mono-material packaging is made of one material only. The main reason for using mono-materials is that they are easier to recycle than multi-materials.
It is not always possible to use mono-materials. It is still especially challenging to make caps and pumps from the same material as the packaging itself: "They are the Achilles heel of packaging," says Turunen. Product development is ongoing.
Turunen points to refillable packaging as an example of future plastic packaging. When refill containers are available, consumers only need to buy a regular container once and then simply refill it.
"Berner uses refill containers for laundry detergent bottles, for example. Refill containers contain 75% less plastic than regular packaging," says Turunen. It makes a difference as lighter packaging requires less material and produces less waste