Packaging follows the brand
When a new product is launched on the market, it must meet the requirements of the manufacturer's brand as well as those of consumers and the retail sector. At Fiskars, the packaging design team is responsible for meeting these challenging requirements.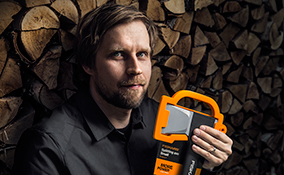 Two flagships of Finnish design, Fiskars and Iittala, have now belonged to the same group for a couple of years. Both companies are world-renowned in their areas of business for the quality of their products, but the companies' products are quite different, which is something to take into account in packaging design.
"When designing packaging for any product made by our company, we have to be able to combine artistic vision with tangible solutions governed by business practices," explains designer Beada Hiiri, who is a member of the five-strong packaging design team.
The team is headed by Marko Halttunen, who studied design in the UK. For him, creativity in packaging design means solving practical problems within the limits imposed by the brand.
"The brand is always at the core of any packaging design. We need to integrate it with production, logistics and commercial aspects during the design process. An essential part of the commercial angle is taking into account the consumers' expectations, which involves separate research for every product and item of packaging," says Halttunen.
Cultural differences and logistics taken into account
Finnish design has had a great reputation overseas for more than 50 years. Iittala is one of the longest-standing standard bearers of this reputation. One of its latest launches was the collaborative project with the Japanese designer Issey Miyake, which resulted in a new line of vases, bags and textiles launched earlier this year.
"If the overall challenge in packaging design is to combine quality, price and practicality, then in this project we focused on quality more than usual. The products are different from each other and quite difficult to package. We had to find durable, practical, yet eco-friendly packaging solutions," says Marko Halttunen.
For example, colours have different meanings in Japanese culture compared to European culture. However, the brand's universal nature guides package design. Beada Hiiri says that the cultural aspects are also dealt with as the design team is involved in the preparation of the launch from the start.
Logistics is another perspective of design that is considered right from the start. Design products such as those made by Iittala and Fiskars only seldom conform to the standard shipping sizes.
"We don't often create module-sized packaging, as it is the products' design and functionality that determine the packaging sizes. Instead, packaging must now feature much more information due to the EU packaging directive," explains the design team's logistics specialist Kimmo Luopio.
The role that logistics plays has also changed because the growth of online shopping has brought new requirements for logistical operations.
"While it used to be important that a brand and product were visible on shop shelves, now that people buy products from online stores, it is important to ensure that the products reach the destination undamaged. It is also essential that customers are given relevant information about the product when they open the package, as at that point they have already bought the product," says Marko Halttunen.
Axe packaging has many functions
Marko Halttunen thinks that many traditional Fiskars products' packages are the epitome of how a brilliant packaging design takes into account a great number of criteria, which can even conflict with each other. Good packaging requires compromises, yet all important aspects are taken into account in a balanced way.
"It's vital that a bigger picture is created right at the start of the packaging design, which then guides the detailing," says Marketa Lastuvkova, another member of Marko Halttunen's team.
Packaging engineer Juuso Viinamäki highlights the importance of correct materials, which refers to both durability and ecological aspects of packaging. PVC, for example, is a banned packaging material at Fiskars due to its environmental impacts. It is equally important to apply engineering expertise to minimise the amount of material used in packaging.
"Various types of plastics have been used for so long that there is nothing much to add in terms of technology. Yet every packaging is individual, and the locking mechanism in the plastic axe packaging, for example, required intensive product development. Customer feedback made us improve the packaging so that it can be opened and locked thousands of times. We had to design packaging that was durable, safe and conformed to the brand. The orange axe packaging also makes it easier to find in a forest or in grass," Marko Halttunen explains.
Text: Vesa Tompuri Images: Vesa Tyni