PYR Info in English 1/2012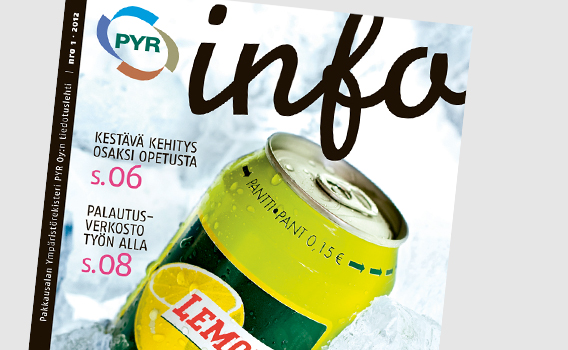 In Brief:
The network of used packaging collection points for consumers is supposed to be in operation on 1 May 2014. Several municipalities have hurried to issue waste management regulations, also requesting statements on them from producer organisations in the packaging sector. This is partly because of collection of packaging from residential properties.
If the producer organisations start collecting packaging from residential properties as well in order to improve their recovery figures, this service has to be paid for by the firms that have placed packed products on the market, in other words, the producers. On the other hand, if a municipality takes care of collection or if a residential property orders transportation from an operator it has chosen itself, the costs can be invoiced from the residential property.
The new Waste Act, however, stipulates that "products no longer in use have to be delivered to a waste management scheme arranged by the producer", which means that both the municipality and the private operator are required to cooperate with the producer organisations. Drafting of the statutes of the Waste Act and the plans of the producer organisation are still under preparation at present. The ongoing Ecopoint pilot study is one means of gathering information for decision making.
Separate collection of packaging board already functions well, for instance in Greater Helsinki. One hopes that this activity will not be impaired by the new regulations. A further point to note is that boosting recycling and other forms of recovery will only succeed if the material delivered to a collection point fulfils quality criteria.
Annukka Leppänen-Turkula
---
Recycling Today:
Plastic packaging – economical throughout its entire life-cycle
The most likely packaging material to protect a product on its journey from production to the consumer would nowadays be plastic customised for purpose. Protective properties, availability, versatility, reliability, security and economy in absolutely all functions can be obtained virtually by using some application of plastic.
It is also increasingly more common to come across various recovery opportunities for used plastic packaging. Deposit plastic bottles with their caps belong to a return scheme familiar to everyone in Finland. Waste to energy fraction is already being collected in a large number of localities, to which used plastic packaging can very easily be delivered to produce electricity and heat. Ordinary packaging plastic is in fact natural gas in solid form. Packaging plastics form an excellent source of energy for suitably fitted power plants. Some of this magazine's readers are most probably very familiar with the recycling and reuse of industrial plastic packaging.
Kerbside collection in the vicinity of shops has been piloted in Tampere and Kuopio from the beginning of 2012. The aim is to gain practical experience of and an insight into the kind of material that can be obtained in this manner. The preliminary results of this pilot study and the just completed plastic circulation project, suggest that such separate collection of consumer packaging waste would in general result in quite poor quality recyclable material. Costs in collection from consumers are considerably high per collected kilogram and even higher per recycled kilogram. Nevertheless, kerbside collection of this type, paid for by the packing industry, is widely used, for instance, in other parts of Europe. The new Waste Act in Finland will also require packers and importers of packed products to take back used packaging free-of-charge on a countrywide basis.
At the turn of the year the producer organisation for plastic packaging, Suomen Uusiomuovi Oy, surveyed Finland's major packers about their opinions concerning policies adopted in the recovery of plastic packaging. The majority of the respondents, over 80%, knew about the full producer responsibility imposed by the new Waste Act either in broad outlines or well. Professional packers have absolutely no illusion that recycling of consumer packaging would be easy. Only one half estimated that consumers would in fact use the separate collection schemes run by supermarkets in preference to their own waste collection bins. In fact in Sweden, for example, only a quarter of consumer plastic packaging is taken to separate collection points after almost twenty years of practice. Practically all respondents considered the establishment of the take-back network required by law to be adequate with 70% believing that recovery as energy is a very good way to recover plastic packaging waste.
More detailed statutes concerning the packaging sector in the Waste Act have not yet been drafted. They will most likely be completed within the year. It is not possible as yet to give an exhaustive description of the requirements that civil servants will ultimately serve up for the packing industry or what it will cost to fulfil them. One hopes that the statutes will be based on reality, genuine good for the environment and fairness so that a start can in fact be made on implementing them in conjunction with this magazine's readership.
Vesa Kärhä, MD of Finnish Plastics Industries Federation,
Member of PYR Ltd's Board of Directors