Lumene to implement a closed-loop recycling programme
Packaging that attracts buyers and keeps a perishable consumer product safe? No problem! Lumene, the Nordic powerhouse of the cosmetics industry, aims to implement a closed-loop recycling programme for its packaging solutions.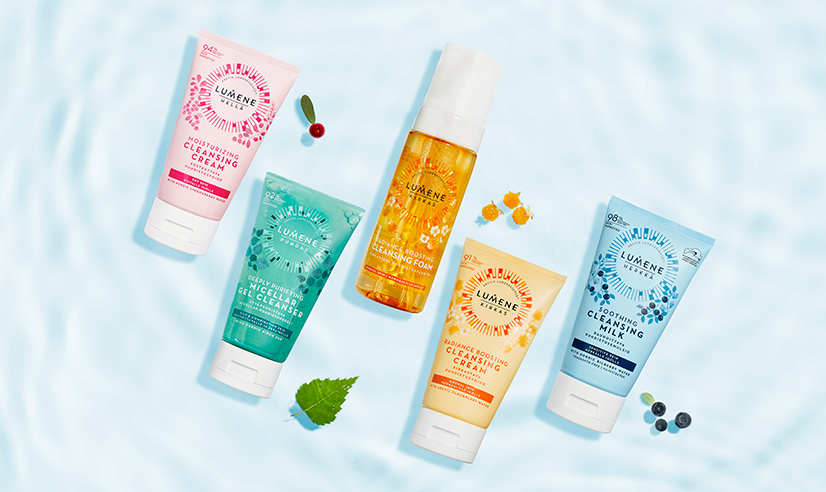 Cosmetics packaging has its special features and requirements, but Lumene has never been afraid of challenges. The company, which draws inspiration from Northern nature, has also set its environmental goals high.
– There are a lot of brands on the market that talk about natural beauty products. We think that this is not good enough. Attention must be paid to the entire life cycle of a product, from raw material to the production of energy required to manufacture products and packaging, says Tiina Isohanni, Vice President of Innovations and Development at Lumene.
Lumene has used by-products of the forest and food industries as raw materials for its products for about twenty years. As Lumene obtains cloudberry oil from the press cake which is left over from the production of berry juice, berries do not have to be picked just to supply the cosmetics company. This means that the production does not use anything that could be used as food or drink.
Lumene also focuses on packaging to achieve its environmental goals.
Beautiful and recyclable
There are many things to consider when packaging skin care and makeup products. The products are packed in plastic and glass jars, bottles, tubes, pipettes and carton boxes.
– There are so many categories that a single solution or approach cannot solve every packaging issue. The whole life cycle of the packaging must be considered. It must be safe for the consumer, have a moderate environmental impact and be recyclable," says Essi Arola, Lumene's Head of R&D for Packaging.
Packaging must also be attractive to buyers.
– Our products are marketed by appealing to emotions. The packaging must be visually beautiful. I am glad that our marketing team is heavily involved in the development of material that is recyclable and also on brand.
The bar must be constantly raised in R&D activities.
– Every packaging we launch must be better than its predecessor. The new packaging must have a smaller carbon footprint, and needs to be easier to recycle.
One of the things to consider when designing packaging is the sensitive ingredients used in beauty products. Packaging must contain ingredients safely, but without changing their properties, colours and scents. The Act on Cosmetic Products stipulates that if a product is not marked with a best before date, it must remain useable for more than thirty months.
Packaging must contain ingredients safely, but without changing their properties, colours and scents.
– This means big challenges for the packaging. This timeline is much shorter for food packaging, for example, although, admittedly, food packaging must also meet very strict requirements, says Isohanni.
Simple is beautiful
Practical measures are required when it comes to making packaging that is easy to recycle. To achieve this, Lumene has removed various decorative elements from its packaging. Aluminium decorations that were previously used to adorn pipettes and pumps are a thing of the past. This makes recycling easier.
– Small things can make a big difference. When we look at the materials used in the packaging, we can find solutions to reduce the use of materials and improve recyclability, says Arola.
Laminate tubes made of metal and plastic that were previously in use have now been replaced by 100 % plastic tubes. Everyday technology in the products has also been examined from the user's perspective: when the tubes and caps are made of different materials, it is important that caps can be unscrewed from the rest of the packaging. This makes recycling easier and the different parts of the packaging can be sorted and placed into the correct recycling container.
Laminate tubes made of metal and plastic that were previously in use have now been replaced by 100 % plastic tubes.
– When these simple things are fixed and we consider the packaging in more detail, we are met with more challenges," Arola points out.
Closed-loop recycling as the target
Lumene's goal is a closed-loop recycling system. The idea is to use a larger proportion of recycled materials in packaging and to ensure that the materials also return to circulation.
– We would like to use more recycled plastic, for example, but there is not enough available, says Arola.
Lumene generates mainly cardboard, plastic and glass waste, and, according to Arola, the company is handling the recycling of these materials very well. The company generates very little metal waste. Lumene aims to streamline the recycling system for metal and small batches of other materials in the future.
Most of Lumene's recycled packaging continues to be used in a new form. New uses are also being sought for by-products.
– One example is the plastic backing of labels, which has been further processed into insulation used in the construction industry. We are also exploring the possibility of reusing the long fabric used in pressing powder," says Tiina Isohanni.
It is not possible to do everything in-house.
– The more we network and cooperate with different parties, the faster we can achieve the closed-loop recycling system. Many thanks to our partners for everything we've achieved so far. We hope to build an even more extensive network so that we can work for a circular economy," concludes Tiina Isohanni.